Workflow Wizards: Kris Peck Increases Productivity and Innovation at Omega
Discover how Kris Peck, Senior Technician at Omega, leverages Rewst to automate efficiently, increasing productivity and innovation across his organization. Join our Workflow Wizards series to see who is best suited for automation expertise.
September 14, 2023
In part one of our Workflow Wizards series, we discussed the importance of MSPs dedicating specific team members to build automation workflows. To do that, we shared the story of one of our most involved Rewst community members, Brandon Martinez.
Today, we're expanding on that premise by showcasing another automation enhancer, Kris Peck. We discovered Kris through an interview with Ron Harris, Vice President of Omega Computer Services LLC. When we heard Ron talk about Kris, it was clear that Kris is a true asset to Omega. Ron describes Kris as someone who talks less and asks more. Kris is someone he invites to meetings to ask questions and challenge assumptions. He's the kind of person whose dedication to enhancing efficiency and automating tasks has elevated his role and empowered his entire organization.
Kris embodies automation, turning slow, repetitive tasks into streamlined processes. Through his expertise, Omega, has embraced the future of work, where automation accelerates productivity and innovation. So, without further ado, let's learn more about our latest Workflow Wizard.
What is your professional background?
I began my tech journey at Central Michigan University, working in a depot helping students get on the network and install Office, anti-virus, and other software. I moved on to internal IT, working on hardware, imaging, and application support. At Omega, I started at the service desk. I was there for two years before becoming a system admin jack of all trends, handling inventory, scripting, etc. Now, I lead the automation team, including our use of Rewst.
Did you have any automation experience prior to using Rewst? 
My prior automation experience was mostly writing PowerShell scripts for internal purposes. I was the one everybody went to for scripting stuff to run things through our RMM to make our lives simpler. Things like deploying a VPN, deploying Wi-Fi configurations, or configuring different applications to do certain things nobody else had the time or drive to do. I took it up and started working through all of it.

How were you introduced to Rewst? What was your initial reaction? 
I was introduced to Rewst while exploring ways to enhance our automation efforts. I saw the potential to streamline our processes effectively. My initial reaction was that if we spent the right time with it, we could do a lot of the stuff we were already trying to do. Things like piggybacking off our RMM, that we couldn't get to effectively. I saw the potential.
Instead of having to code a lot of new things, we could use Rewst to do everything we wanted.

When our developer was trying to build things himself, a big issue we encountered was having to constantly maintain things like integrations. Rewst takes that effort to maintain integrations off our plate, along with setup and security.
What was most helpful when learning Rewst? Did you have any "Aha" moments?
Honestly, the best way to shorten the learning curve was to join the Discord channel and ask questions. Whether it was Rewst techs or the people in the community, they've always been very friendly and forthcoming with answers or ideas on moving forward. I haven't had any issues with getting ways to progress through whatever weird filtering issue I'm having with data.
There was one aha moment when I was building a Meraki form. I had to iterate through two lists simultaneously, and I couldn't find a good way to do it. I reached out to one of the techs at Rewst, and they suggested an approach that made everything click. I said, "Oh, this makes everything so much easier." I duplicated that concept for other workflows, and it worked perfectly across the whole platform.
What are some workflows you've built? Which are you most proud of? 
The most significant workflow I've finished, and probably the one with the most value, is the Meraki one. I spent many weeks working on it, trying to get everything to flow together. Now we have the whole process automated. It even sends an email telling the user what to do to set up everything.
It saves a few hours of manual work every time we run it, whether that be adding someone or deleting someone. It's a lot of small steps that, without automation, just add up quickly when you have to do them for 60-plus organizations.
Besides that, we have a client onboarding automation I wrote just to get them added to Freshdesk and Ninja to do some basic additions. In total, I've probably built almost 15 workflows, as well as sub-workflows and option generators.
What's your approach to building a new workflow?  
When building a new workflow, I see if it's a process we need to replace or something we don't have a well-defined process for already. Then we see if it's something we can or should automate to make everything the same. And from there, it's just seeing what systems we can interact with. One of the projects I'm working on is replicating BrightGauge-like functionality within Rewst to generate client stats.
What impact has Rewst had on your role at Omega? 
Once we added Rewst, Omega made a department for it. The whole goal is automation, and I no longer have to worry about handling inventory. So, it changed everything. It gave me a more focused position on the automation stuff I've enjoyed trying to figure out over the past few years. Before, figuring out processes was always side time and not my primary focus, and now it's most of my primary focus.
What advice do you have for new Rewst Users? 
First off, dive into the Rewst Discord community. Asking questions and seeking advice can be a real game-changer.  And don't hesitate to experiment with Rewst! Start small, maybe with a basic form, and gradually build your understanding. Just try to get data out of something and then see how you can manipulate it and then iterate on it.
What did you want to be when you grew up? 
When I was young, I was all about dinosaurs and wanted to be a paleontologist. Later, I considered engineering until I realized how much math I'd have to take. Once I got into those advanced Calcs, I was over it. That's when I shifted to IT.
What do you do for fun? 
I'm a gaming enthusiast. I'm playing the Marvel Spiderman game they released a few years ago on PlayStation. I also tinker with personal projects, like my home server and programming endeavors. It's a mix of tech and entertainment that keeps me engaged outside of work.
Find the perfect candidate for your automation needs. Download our automation engineer job description template!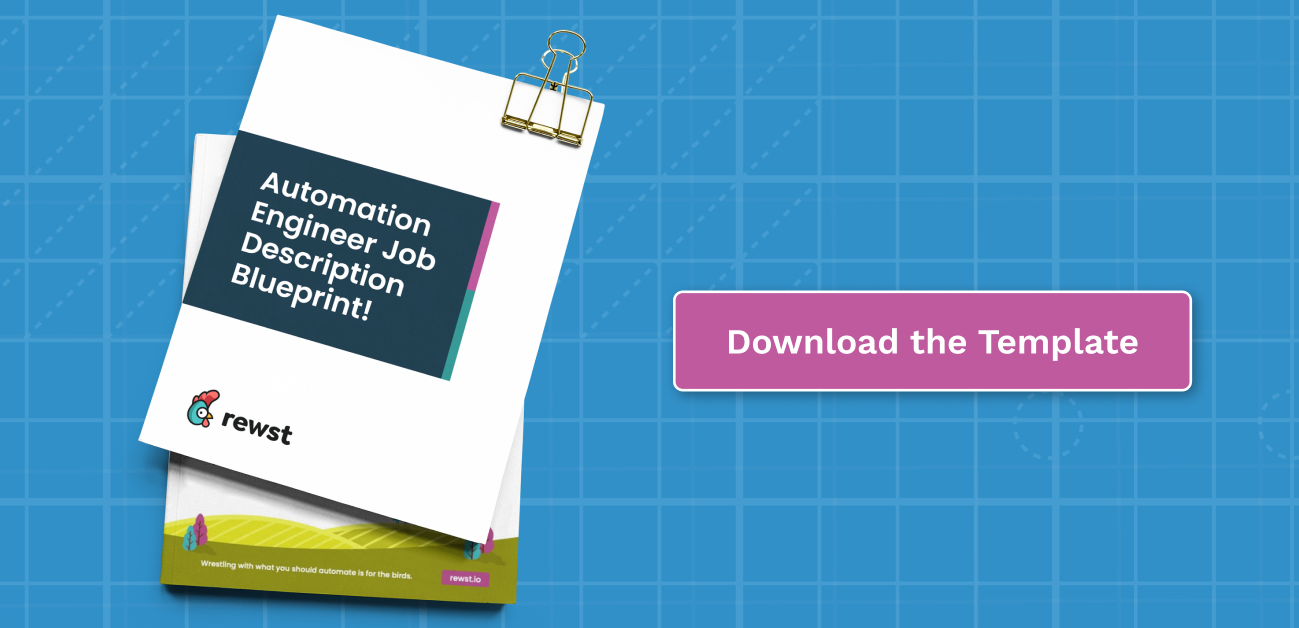 Latest Blog Posts
Subscribe to Our Blog
Stay up to date with the latest on our platform, automation, events and news.
We're committed to your privacy. Rewst uses the information you provide to us to contact you about our relevant content, products, and services. You may unsubscribe from these communications at any time.